Product Description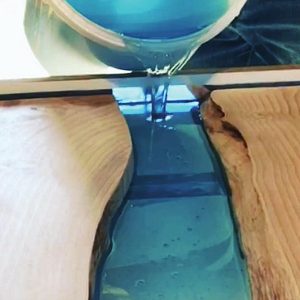 Deep Cast Clear Casting Resin is an unaccelerated clear epoxy casting resin system which extended practical working period.
Popular Uses:
Deep Castings.
Perfect for resin river tables / resin live edge tables.
Knot holes, cut grooves or gaps.
Clear or tinted with pigments.
Decorative castings.
Wood turning.
Making paperweights, 3D art resin, figurines and larger jewellery.
Main Features:
Mix and pour up to 12 litres or up to 50mm deep in one pour.
Long pot life of 10 hours at 22°C, easy bubble removal and precise article placement.
It avoids high exothermic reaction and the resulting shrinkage after curing.
Inbuilt UV inhibitors.
Low viscosity – fluid for intricate castings.
Hardness score: Shore D 95 (hard)
Water clear casting resin.
Excellent visual properties.
VOC free.
The mixed Deep Cast Clear Casting Resin can be coloured or tinted with pigments, pastes or tints. It can be poured into a silicone rubber mold and cured under normal gravity or under vacuum. Temperature should be between 18-25°C, humidity level below 70%. Once the resin is mixed and poured into a mold, gently pass warm air from a heat gun or hair dryer on the slowest speed setting. This will assist in removal of any bubbles generated during mixing. If using alcohol inks DO NOT use a flame to remove bubbles. A 2:1 mix will provide a hard casting suitable for manufacture of fancy shapes and decorative items. A new mix can be applied onto a cured resin, but the contact surface should always be sanded in order to enhance adhesion.