Product Description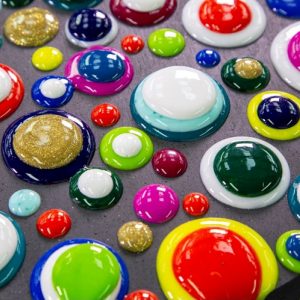 Hi-Build Artwork Resin is a high viscosity, two part artwork resin that offers the benefits of 3D height.
This is an extremely thick resin.
Popular Uses:
Perfect for Blob art
3D collage work
Geode art
Textured lines and stripes
Domed and raised sections
Resin Cabochons
Edge drips and resin stalactites
Coloured with pigments and pastes.
Main Features:
User friendly 1:1 mix ratio
Off White in colour
Pot life 15-20 minutes at 23°C (250g mixed mass)
Second layer after 20 minutes, touch dry in 2-3 hours at 23°C, full cure in 4-5 days
Inbuilt UV inhibitors.
No slumping or sliding
Solvent free and odour free
High build formula
Non-flammable
High viscosity
VOC free.
Hi-Build Artwork Resin is a two part epoxy resin which will work well in any application where the user wants the resin to stay exactly where it is dropped; no slumping, no sliding, no movement, it stays where you drop it. Simply mix in a 1:1 ratio and let it drip, drop or ooze off your spatula. This resin is not available in a clear option, by default it is an off white colour and therefore Hi-Build must be pigmented. Works well with Eli Chem tints and pigmnets and other brand (suggest testing).