Epoxy resins have a wide application, from artwork to adhesives. Keeping its colour is important.
Resin on its own remains a liquid, unless it is mixed with a second important component, the hardener. The reaction causes a hard, cured network (1) the epoxy resin we are so familiar with in our art, jewellery, or other resin projects. Commercial epoxies often contain additional components such as plasticizers, accelerators or trace impurities which in itself may cause yellowing (2), whereas epoxy resin created for art generally don't have these impurities.
Epoxy resins will eventually yellow, even under room temperature, with or without light exposure and hastened by humidity (1).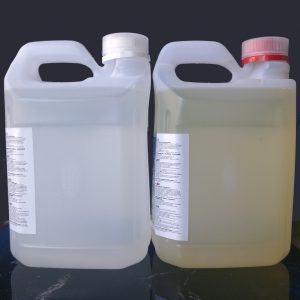 When does the yellowing occur?
There are mainly two types of yellowing of epoxies.
The hardener shows a slight yellow tone even before mixing, and
After the resin mixture has cured/hardened.
:: Yellowing of the hardener
The main cause for yellowing of the hardener (1) is carbonyl formation (carbon and oxygen =C=O) in the epoxy backbone due to thermo-oxidation (3). Amines in the hardener are oxidised (i.e. oxygen added) when air comes in contact with it, either during the bottling process or even when oxygen penetrates the plastic container. Thermo-oxidative aging can be described as a "slow, controlled burning" of the material, thus HEAT (warm environment)+FUEL (the hardener components)+OXYGEN (in air) (5). Take one away, e.g. oxygen, and the process stops.

The yellow colour becomes darker over time, similar to a peeled apple going brown. Even the slight moisture in the air can hasten the process.
→ Can hardener that has yellowed still be used? A definite YES.

This yellowing is not a problem as it does not affect the curing properties of the mixed epoxy resin. Nor does the yellowing continue once mixed. It becomes inert once cured and the hardener no longer reacts with oxygen. The yellowing seen in a hardener bottle looks worse as it is seen in bulk volume, by the time it is mixed it will not look as yellow.
When the Hardener is mixed with the Resin, it is diluted, and thus much less yellow in the mixed form.
Spread thinly over a colourful painting or art board, any discolouration is hardly, if at all noticeable.
When adding colour pigments and pastes to create resin art panels, no discolouration is noticeable.
Applying it as a thin layer over wood which generally have a yellow tone, it should not be noticed.

:: Cured epoxy resin yellowing
UV light is the most common cause. The UV light, part of natural light, excites the molecules and cause them to break down. This may even continue after removal from UV exposure (5). Direct sunlight is the biggest culprit in yellowing of cured epoxy resin.
→ Can this yellowing be blocked? To a certain degree.

All epoxy resins will yellow over time, some faster than others. Many epoxy resins used in the industrial and marine industry do not have yellowing blocking agents, as yellowing is not important in their application.
In contrast, art epoxy resins should retain its clarity and special formula epoxy resins contain:
UV resistant stabilizer, which combats the effect of UV light exposure on the polymer molecules, reducing yellowing. (Eliminate 300 to 320 nm)
Hindered Amine Light Stabilizer (HALS) is a chemical that scavenge free radicals released when UV splits the resin molecules. The free radicals are very reactive and may cause damage to the resin, by effectively binding them, the yellowing is reduced significant.
Overcoat UV-resistant clear linear polyurethane coating or high quality one-part polyurethane varnish.
:: Conclusion
Epoxy resin can turn yellow when exposed to humidity, oxygen (the hardener), UV light and high temperatures.
By selecting art resins that have special formulation to prevent yellowing, removing UV light or using colour pigments to mask it, yellowing can be minimised. Understanding these processes a bit better now, will make the next resin project easier.
By Philip Coetzee Ph.D.
July 2021

:: References
1. Krauklis, A.E. and Echtermeyer, A.T. (2018). "Mechanism of Yellowing: Carbonyl Formation during Hygrothermal Aging in a Common Amine Epoxy." Polymers 10, 1017 (15p).
2. Ginell, W.S. and Coffman, R. (1998). "Epoxy resin-consolidated stone: Appearance change on aging." Stud. Conserv. 43, 242–248.
3. Ernault, E., Richaud, E., and Fayolle, B. (2016). "Thermal oxidation of epoxies: Influence of diamine hardener." Polym. Degrad. Stab.134, 76-86.
4. Dijkstra, K. (2018). The Bright Science Behind Thermo-Oxidative Stability. (2021,July14). https://www.dsm.com/content/dam/dsm/engineering-materials/en/documents/DSM_Thermo-oxidative_Stability_Paper.pdf
5. Arnold, J. (2021, July 14). This Is Why Epoxy Turns Yellow. https://woodepoxyworld.com/this-is-why-epoxy-turns-yellow/