Product Description
UltraCast XT clear epoxy resin systems with high gloss finish and can be cut, turned, sanded and polished, giving an attractive finish. The excellent clarity and optical transparency makes the resin particularly suitable for the protection and decoration. See uses below.
"Suitable for use as food-safe coating but not as a cutting food-preparation surface."
As stated on Eli Chem UltraCast label.
Popular Uses:
Tabletops, bar counters and kitchen worktops (seal/protect )
Seal/protect e.g.
– Artwork (acrylic, oil and watercolour paintings)
– sculptures and layered collage
– Photos and prints
– Wood and timber artifacts
– Clocks, pictures and puzzles
Sculptures and mould castings (up to 1000cc in volume)
Penny floor and pigmented epoxy floor applications
Main Features:
Optically clear quality epoxy resin system
2:1 mixing ratio (resin:hardener) is convienent and easy to apply
Solvents and Odour free
Non-toxic at ambient temperatures (very low skin irritation potential)
Safe to use. Conforms to ASTM D-4236 and EN71
Long practical working time of approx. 1.5 hrs
Ambient curing in 24hrs, allow 14-21 days for full curing
Cures to a hard and durable finish
Can tolerate 85-90oC temperatures when FULLY cured (e.g. coffee cup)
Non-flammable
UV stable, no need for HALS or UV blockers1
Self leveling
Built-in air release agents and moisture scavengers
Can be applied by pouring, brush or roller
Suitable for use as food-safe coating but not as a cutting food-preparation surface
UltraCast XT synthetic resins have not been tested on animals, and contain no animal parts.

1 Ensured by UV stabilizers, Blockers and Inhibitors. The products contain UV absorbers and HALS (Hindered Amine Light Stabilisers) and makes use of Cyclo-Aliphatic technology.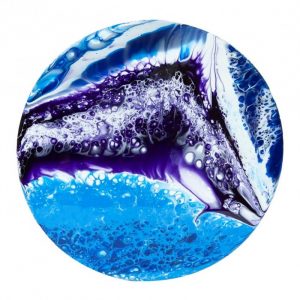 This epoxy resin system is used to coat large areas of coverage (floors, kitchen worktops, large canvases or art boards, coasters etc.) Not sure if this resin is right for your project? See our Eli-Chem Which Resin comparison.
UltraCast XT Epoxy Resin can be applied by pouring, a brush or a roller. It is classified low flamability. Please be advised although our resins are U.V stabilised this does not mean they are U.V. proof. Ultimately all our clear epoxy resins will show signs  of U.V. degradation over time. The manufacturers Eli-Chem work constantly to improve U.V. protection, however resins are plastics and over time the sun will always win that battle.
Always wear gloves as it does contain chemicals and may cause allergic skin reactions in some people. Eye protection is also recommended.
Read cautions on individual containers carefully.
Be aware that if tints are used with UltraCast XT, there is a chance the colours could bleed into one another if poured next to each other, as the UltraCast XT formula has a longer working time and is thinner than MasterCast 1-2-1 art resin.
The addition of pigments (inks, powders and pastes) as well as other resin additives (resi-BLAST, silicone, lubricants, alcohol or solvents) will lower its temperature resistance, this is because pigment substances themselves have a very low temperature threshold. Alcohol inks in particular can cause problematic surface finish due to its effect of lowering the viscosity (diluting the resin and impacting its density). Addition of of alcohol inks can cause cloudiness, dimples and other surface blemishes. The alcohol content in these inks will nullify the resin's non-flammable properties. When alcohol inks or any other solvent is added, special care should be taken when heating the surface with an open flame blowtorch or butane gun.
The thermal withstand of the cured mass is lowered and compromised when increasing amounts of pigments and additives are added or mixed into UltraCast XT. A final clear coat topcoat of UltraCast XT is recommended on top of the pigmented layer to strengthen its resistance against hot objects placed on it.
Note: Due its long open time, UltraCast XT is susceptible to Amine Blush2 and Polymer Bloom3 under the following usage conditions : high humidity, low ambient temperature (15°C or below), draughty or windy conditions including air-conditioning. To avoid this effect from occurring it is recommend the resin component (Part A) is pre-warmed before mixing with the Hardener. The temperature and humidity of the working area should be kept as consistent as possible while the resin is curing. (also see Troubleshooting FAQ)
2 Amine Blush is a sticky, waxy or oily appearance on the surface of cured epoxy. It can also be spotty, milky or salt-like. This deposit is water soluble and can be wipes/scrubed away with warm, soapy water.
3 Polymer Bloom is caused by the segregation of additives from the polymers which migrates to the surface.

When resin is fully cured, it is safe for incidental contact with food, but not recommended for food preparation (e.g. cooking, cutting). Refer to Food Safety notes.
UltraCast XT Pack Size Coverage at 0.5mm thick (approx.)
1.5 kg Kit (Resin+ Hardener) : 2.14 m²
3 kg Kit (Resin+ Hardener) : 4.29 m²
7.5 kg Kit (Resin+ Hardener) : 10.73 m²
Resin amount calculator
* Although Resin and Hardener may differ in density, we can assume 1kg = approximate1 litre when doing your calculations.